Programming language: Objective-C
Abbi alternatives and similar libraries
Based on the "Analytics" category.
Alternatively, view Abbi alternatives based on common mentions on social networks and blogs.
Glassfy open source SDK and backend enable you to integrate and remotely manage in-app subscriptions in just minutes, so you can focus on your app.
* Code Quality Rankings and insights are calculated and provided by Lumnify.
They vary from L1 to L5 with "L5" being the highest.
Do you think we are missing an alternative of Abbi or a related project?

Add another 'Analytics' Library
README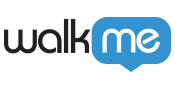 WalkMe Mobile increases in-app engagement and revenues - automatically. WalkMe's technology learns and understands user usage behavior, identifies the users "happy moments" and acts upon them in real time.
WalkMe iOS SDK
A Simple SDK that allows anyone to create and manage in-app content without coding and without deployment, to maximize in-app user engagement.
How it works
Install the WalkMe Mobile SDK, no work and setup required.
WalkMe's technology understands your users and targets them at the right time and place.
Create in app content including interactive Walk-Thrus, ShoutOuts, Launchers and Web Resources.
Launch and analyze in-app content in seconds, no need for app store approval.
Installation
With CocoaPods, add to your Podfile
pod 'abbi'

Open your project directory in terminal and run
$ pod install

In order to update with the lastest Abbi SDK, run
$ pod update

Support
License
Commercial Software

*Note that all licence references and agreements mentioned in the Abbi README section above are relevant to that project's source code only.